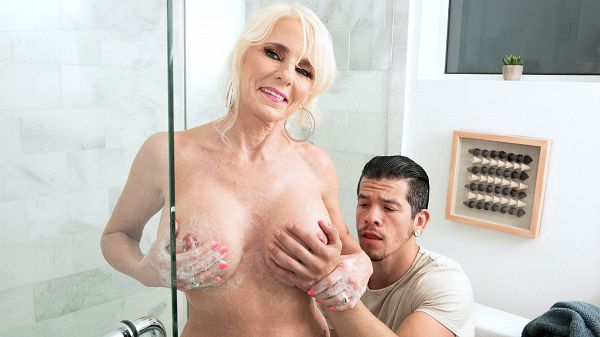 In this lovely scene, lovely and sexy mom and granny Cammille Austin sucks and fucks the guy who's about to be her step-son. Yes, Bambino's lucky dad is going to marry Cammille, which makes Bambino very lucky, too, because judging by this scene, he's going to have regular fuck access to one of the hottest GILFs on the planet, a woman with big, pierced tits and a pierced pussy. A woman who loves big, black cocks but is perfectly happy with Bambino's big, not-black cock.

Cammille sucks and fucks that BNBC. She takes it up her ass. She does all of this after Bambino walked in on her while she was taking a shower. Most women would be appalled if that happened, especially with their step-son, but not Cammille. She took advantage of the situation. In the end, Bambino shoots his load onto his future step-mom's well-fucked asshole.

By the way, Bambino is 30, half Cammille's age. She's 60, and in real life, she's married to a very generous man who encouraged her to have a BBC gang bang on their wedding night. Hubby got treated to very sloppy seconds and was very happy about it.

60Plus MILFs: What sexually satisfies you best?
Cammille: Deep, hard fucking doggy-style. I like to feel it all the way up my pussy. I like that stretched-out feeling from a big cock.

60Plus MILFs: Do you like rough sex or gentle, romantic sex?
Cammille: It varies. It depends on my mood. Sometimes I really like it slow and sensual to where I can really connect with the person. Other times, I like it fast, hard and rough. I love having my ass slapped and my nipples pinched. I don't want it too hard where you leave marks, but I love having my ass slapped. I'm finding out that I'm up for anything.

Cammille is a nurse. Her husband is a surgeon. We asked her why she decided to do porn, and she said, "It was my husband's idea. We started experimenting in the bedroom with pictures, and then we moved on to videos. We would call up some of his friends, and he would tape us while we had sex. We really enjoyed it and just kept on doing it."
See More of Cammille Austin at PORNMEGALOAD.COM!