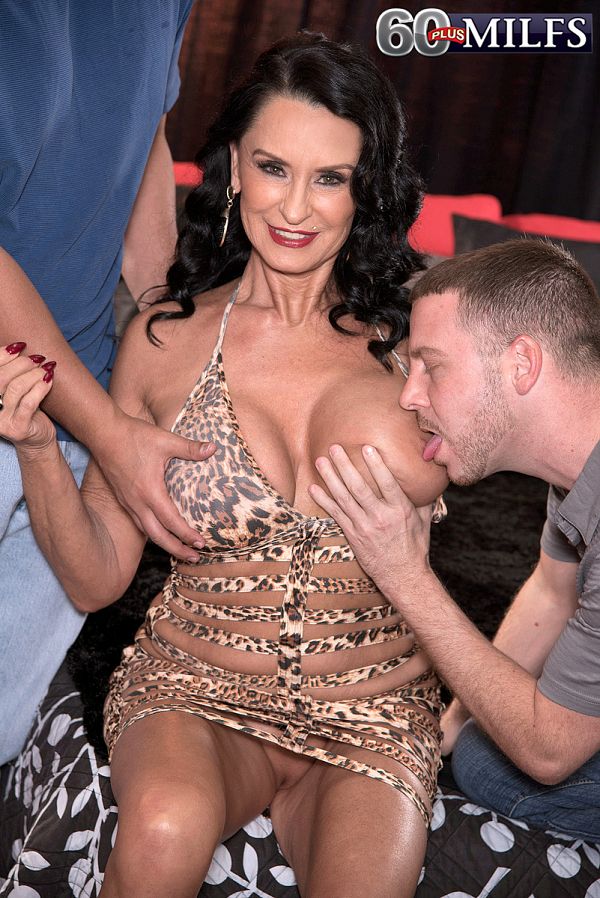 Our celebration of 10 Years of Rita Daniels comes to a sticky climax today with photos of one of the hottest scenes we've ever shot: Rita's first DP. The scene went live on Christmas Day 2014, and it was the best present 60PlusMILFs.com members could have asked for.

"Before I came to The SCORE Group, I had never done anal in my vanilla life and I had never done DP in my vanilla life," Rita, now 69, told us. "Those were firsts."

Rita was 64 when this scene was shot. As we wrote, "Rita seems to be really turned on by the age gap between her and Tony. While she's taking turns sucking the two cocks, she keeps talking about how much older she is than him. She tells both lucky studs to fuck her mouth. She gags on their cocks. We can see her getting more turned-on by the second. She keeps sucking while the boys take turns on her old cunt. Finally, she's on top and riding the cock that's in her pussy. She spreads her asshole wide.

"Stick that fuckin' cock in there," she demands. "Stick that fuckin' cock in my asshole!" It slides right in. "Oh my god, both fuckin' holes!" Rita says.

Looking back at that scene now, Rita recalled, "I had a lot of apprehension. I didn't think they were going to be able to do it because I have such a tight ass, but once they got in my ass, it was no problem getting the cocks in my pussy and ass at the same time. It was amazing.

"Tony's got an awesome, curved cock. It went right up in my pussy and hit my g-spot and made me explode all over the place. And Sergio has a really big cock. Their cocks in my pussy and ass felt so good, I just melted away and went into this different world."

Rita has since done two more DPs at 60PlusMILFs.com: an interracial DP with King Noir and Stallion and another in which she gets her holes stuffed by two plumbers.

But she has never done an air-tight scene (one cock in her mouth, one cock in her pussy and another in her asshole)...until now.

Today at 60PlusMILFs.com: photos of Rita's first-ever air-tight scene. And tomorrow, the video. What a way to celebrate 10 years of this sensational woman!

The party continues today at 60PlusMILFs.com. Don't miss it.