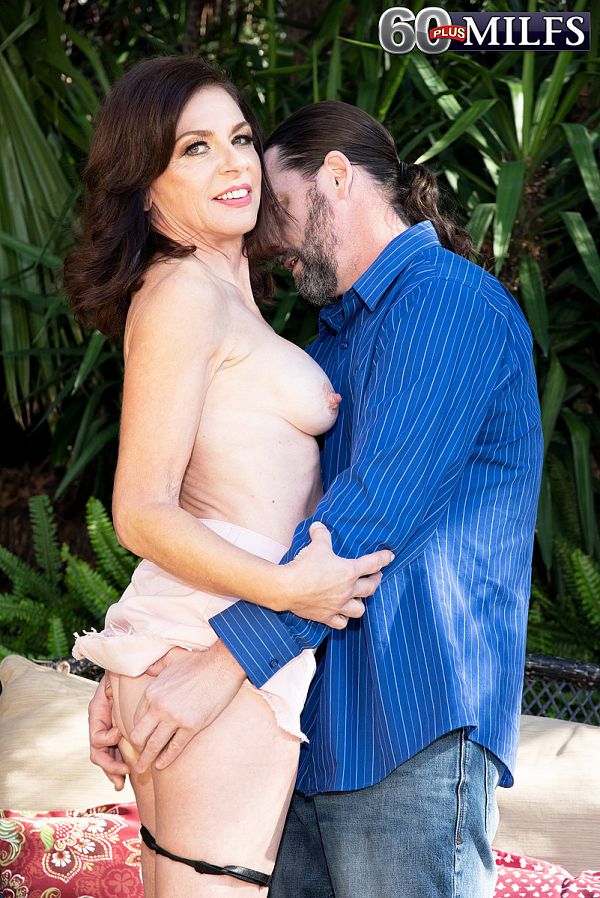 The last time we saw Cashmere, she was fucking young studs at 50PlusMILFs.com. Well, Cashmere turned 60 this past January 9, and that means she's now a 60Plus MILF, and she's still fucking young studs for all the world to see. This is her 60PlusMILFs.com debut, and it's a good one.

This hot divorcee and mom, who was born in Ohio and now lives in Arizona, told us she's still swinging and enjoying the life of a sexy MILF. The last time she was here was the first time she'd ever fucked on-camera, and she loved it. She watched her scenes and thought they were sexy. They definitely were, especially when she got ass-fucked by a young pool boy. Here the dude fucks her face and pussy. The next time you see her: anal.

"I've always been very sexual," Cashmere said. "I've been that way ever since I can remember. I don't remember ever not masturbating. Vibrators, toys. It depends on what I'm in the mood for. I like penetration and rubbing my clit. For me, clitoral masturbation is quicker to get to the end result, but sometimes I need both. I like it, and I've learned to make myself squirt."

Cashmere was married for 23 years before getting divorced.

"The first time another man kissed me, I was shocked because he brought out this passion in me that I didn't know was there anymore, and when you're older, you have a little fear. I just felt this passion inside of me and I wanted to take it further, so I started having sex with different people, and I really enjoyed it. I've learned a lot. I've done more things now sexually than I had in the previous 25 years. It's a liberating experience. It's an empowering experience."