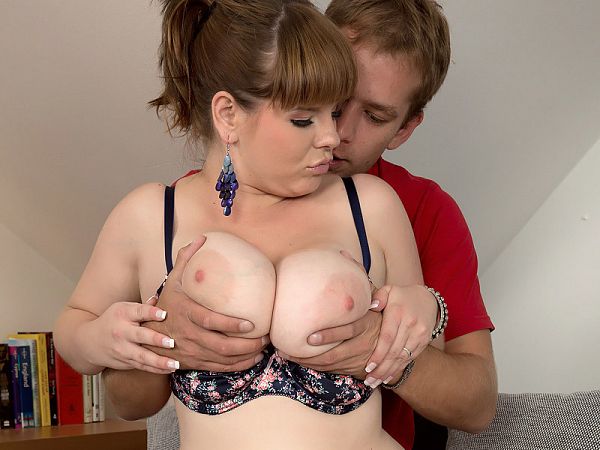 "I don't prefer kinky sex, and the only fetish I have is light hair pulling when I have sex, if that could be called a fetish," Prague chick Cassie Cute said. "I'm too shy for public sex, I don't really like anal sex and I don't want to have a threesome. I have never been with a girl, only kissed."

That might all be true, but it's also true that Cassie fucks on-camera for all the world to see, and she broke her hardcore cherry with us. A lot of girls have anal sex. A lot of girls have threesomes. A lot of girls eat pussy. But only a very small percentage of the population has fucked on-camera, and that makes Cassie special. That and her big, natural tits. And her cuteness. That's why she's Cassie Cute.

One of Cassie's sexual fantasies is to have sex on a swing. Her favorite position is doggie, and for foreplay, she says she likes to be bitten on her back. Just lightly, not like Dracula would bite. Like I said, Cassie's not over-the-top with her sexual needs.

Here, Cassie walks down the stairs to greet Thomas. He's ready for her. She's ready for him. He can't believe how hot she looks. She leans over to tease him, knowing how badly he wants to suck her tits and fuck her.

And that's what happens. He sucks her tits and fucks her pierced pussy. She sucks his cock. He cums all over her tits. Like I said, this is the kind of thing most girls do but don't do on-camera.