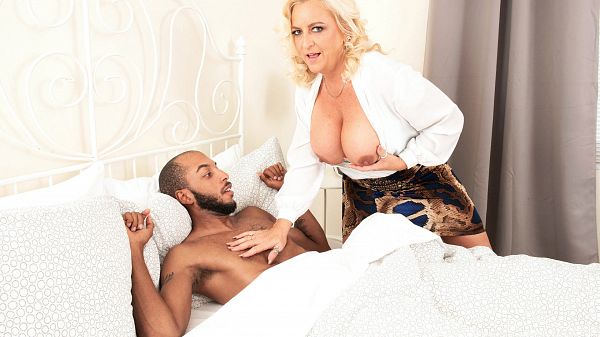 Charli Adams is a mother. She's a grandmother. She's a 56-year-old woman whose previous marriages were so unsatisfying sexually, she had no idea where to turn. Then she got divorced and started discovering her sexuality. Started swinging. Started having sex with multiple partners. Met a man who encouraged her to be sexually free. Married that guy and became a cam model. Then came to us and had sex on-camera for the first time.

This is her second scene. It's with John, who's only 23 years old and has a big, black cock. Oh, and she's a reformed Mormon. We never get tired of saying that or wondering what her ex-husbands would think if they could see her now.

"I think I was just always this way, but I had to hide it," Charli said. "Then I met a man who brought it out of me. He let me out of my cage, and I couldn't get back in."

In this video, Charli tip-toes into the room where her son's best friend is fast asleep, morning wood tenting the sheets. Nobody's home--her hubby and kids are away--so she peeks under the sheets and likes what she sees: a big, black cock. John is startled when he wakes up, but Charli encourages him to have a little fun. Suck her tits. Eat her pussy. Enjoy a morning blow job and fuck. Cum on her face. All of that happens in this scene.

"Everybody says I have the right body for fucking," Charli said. "That's why I'm here."

The right body for fucking: curvy, big tits, nice legs and a tight, pink pussy with a big clit that's easy to find in the dark.

Charli is an event planner. She's also been a secretary and a realtor and has worked in retail sales. She's making her fantasy come true by being here, fucking on-camera for all the world to see. Well, not all the world. Her ex-husbands are probably still wound too tight to watch this.

"It started out as the fact that I have a really great libido, and I tended to want sex more than my partners until I met my husband and we became swingers," Charli said "He's as much a sex addict as I am. He loves the fact that I'm doing this. He can't wait to watch. He wants to tell all his buddies."

Maybe Charli and her hubby will fuck while they watch this scene. Maybe Mr. Adams will invite his friends over to watch the scene and they'll fuck Charli while hubby watches. In Charli's sexy world, anything is possible.
See More of Charli Adams at PORNMEGALOAD.COM!