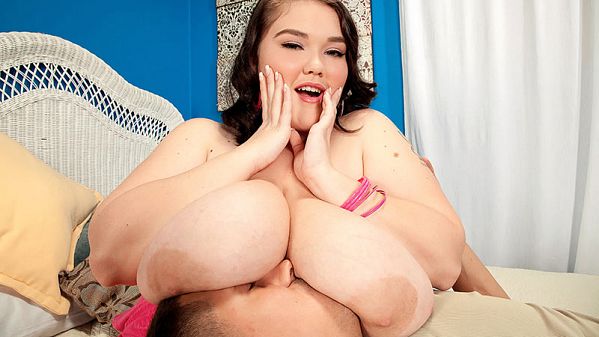 As Lisa Canon explains it in the opener, she's extremely nervous.

Lisa says to Largo that she loves, and gets, a lot of sex and male attention back home. Nipple sucking and licking gets Lisa horny and ready for the cock. It gets her rubbing his junk through his pants. The camera and the cameraman is forgotten. Her jitters vanish as her sex instincts and nature take over.

"I really want that big cock now. I want to suck on it, please," Lisa begs. The camera angle of Lisa eating and jacking cock while her giant 36G-cup tits dangle captures it all.

Largo has Lisa lay on the bed, her head partly over the edge so he can fuck her mouth. The ball-piercing on her tongue adds extra pleasure. All the sucking and titty-fucking prepares Lisa to get pounded and then creampied.
See More of Lisa Canon at PORNMEGALOAD.COM!