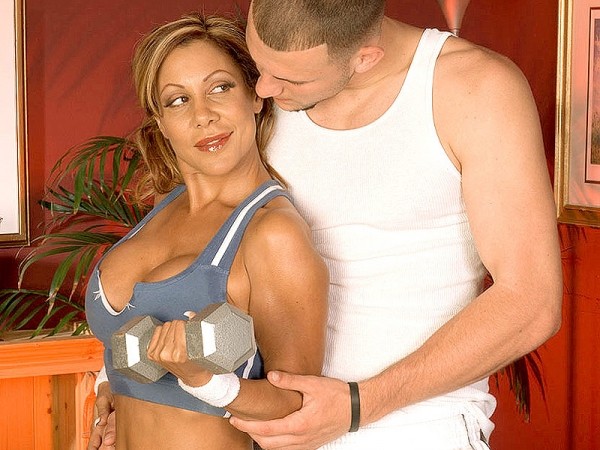 Demi Delia's hub has asked JMac to help her work out. This is like asking North Korean leader Kim Jong-il to hold onto a couple of nuclear missiles for safekeeping. Demi shows JMac how she trains, lying on the floor and letting him help her do leg raises and sit-ups. None of this lasts long because sexbomb Demi wants to suck on his dick. He sits back on the couch so she can get to the real work-out.

Demi is the kind of cocksucker who makes a lot of loud, slurping sounds and really gets into sampling the meat. She makes even louder noises when he starts drilling her snatch hard and deep. They get creative with a large workout roller.

Demi gets into a doggie-pose over it so he can give her a rolling pounder. This position looks like a winner for both of them. Demi's a screamer and yells dirty things as he slams deeply into her pussy. It's obvious that she's fallen hard for JMac's cock. She climbs on top of him in a cowgirl position and goes ballistic on his shaft, yelling and screaming.

Almost 20 minutes of hard fucking leads to a blastoff on Demi's face. She uses a forefinger to wipe the dripping jizz into her mouth for added nutritional supplementation. Another successful training session caught on camera proves that women love to work out but like fucking even more. Now there's a concept: fitness through fucking.