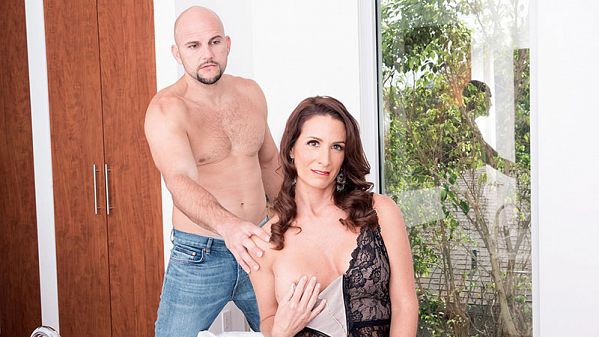 When this scene opens, 40-year-old wife and mom Eliza Kelay is standing on her veranda. She sees JMac working on her patio, shirtless, and invites him up.

"Me?" he says.

She nods. It doesn't take much convincing, not when a woman is as sexy as Eliza.

While waiting for him, she strips naked, showing off her nice, firm tits, and by the time JMac gets upstairs, Eliza is soaking in the bathtub, washing off her body. She asks him to help her wash off. Get clean. But what she really wants to do is get dirty, and that happens quickly enough.

By the way, this scene includes JMac's famous lockdown position, in which he locks the girl's legs behind her head while she's riding his cock reverse-cowgirl. JMac also eats Eliza's pussy, licking her big clit, because we know a lot of you love seeing that. JMac loved doing it.

When this scene starts, Eliza is wearing sexy lingerie. But in real life, "I dress conservatively. Normal. The yoga look."

Her hobbies: "There are a lot of breweries in Ohio, but I don't go to those. I'm not a big drinker. Running, kayaking, painting furniture. I like that. I re-sell furniture. I like to go dumpster diving, find treasures, take them home, fix them up and re-sell them."

Porn star. Based on her three scenes at 40SomethingMag.com, we think that should be her new hobby.