A beautiful, shapely and busty Asian hottie from across the Big Pond, Tigerr Benson is a special one. When people check Tigerr out in an airport or in a restaurant or wherever, they would never guess that she's a porn star with a lust for raw, out-there sex and a dirty mind. A well-groomed, pretty girl with a dirty mind and huge tits. That's nirvana.

SCORE: Annina, a big-boobed German SCORE model, told me in 2008 that she loves DP best of all because "My pussy is stretched around a cock, and my ass is stretched around another cock, and I feel like I am totally filled up." Do you experience the same thing?

Tigerr: Yes, she is exactly right. I love that feeling. It's a strange feeling but it's really hot for me. My biggest fantasy is to try double anal and double vag but it's probably not going to happen.

SCORE: You did a DP in this threesome. What was that like for you?

Tigerr: Super hot. The other thing that gets me off about DP is feeling both guys cum in me. I like the feeling of being filled up with cum. I like creampie a lot. I would love to see a cute white girl like Holly Brooks licking it out of me and then we do a snowball scene.

SCORE: Holly is a hot girl. There's an anal scene with her that's coming to SCORELAND. Not every porn stud will do a double vaginal with another guy. How often have you done that?

Tigerr: Yes, I know. I've done it three times now, including this SCORE scene. It's not enough! I want to do more.

SCORE: Are there more sexual boundaries you want to experience?

Tigerr: There's not too many left for me. I guess I would like to do more girl-girls. I now have my first-ever real girlfriend Cherry. She is so cute. So I guess I'd like to do more on-camera. [Laughs] As you may know I'm a bit kinky so my hot fantasy would be to be Amy Anderssen's pet on a dog leash with her standing over me in black latex boots. She'd make me lick her pussy, her asshole and those boobs. I think she is so hot. I like race play but not sure if you could or would do it. She would call me her "little yellow bitch slut" and dominate me!

SCORE: Has having bigger boobs been good for your sex life?

Tigerr: Absolutely. Actually I was so surprised that guys are much hotter for me after my second boob job.

SCORE: Do you like a guy to have a certain cock size? If yes, what's good for you? What's the biggest you have had?

Tigerr: I think what the guy does with his cock is more important but to be honest I'm only dating porn stars in private life now because they tend to be much bigger. I like nine inches. The biggest guy I think was Rocco. He was very thick too!

SCORE: Do you watch your scenes? What do you think about as you watch them?

Tigerr: I don't watch my scenes as much as you would think. I am not sure why. I don't watch much porn at all. I guess I prefer my hot memories. At night I masturbate but I just close my eyes and think of the things I've done with hot guys.

SCORE: Tigerr, thank you for your time and for what you give to breast-men.

Tigerr: Yippee! I love breast-men and bum-men.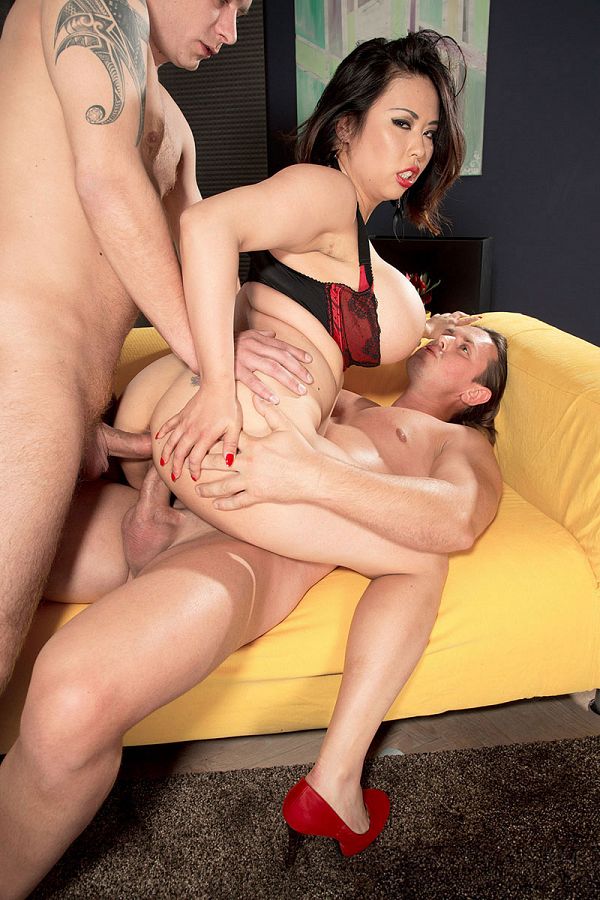 See More of Tigerr Benson at SCORELAND.COM!