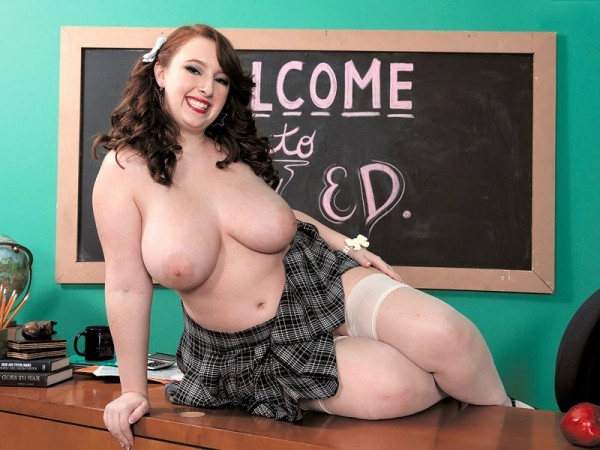 Felicia Clover as a schoolgirl? Why not? She was only 21 when these photos and the video were shot, and she was a university student.

"I love public sex, so on the long list of places that I have had sex is a classroom at my university," Felicia told us. "That was quite fun because there were so many people walking around right outside the door the whole time. I was a straight-A student and I was on the honor roll and in advanced classes. I took college classes in high school, too. And I didn't get my grades because I was a good fuck. But I could have."

We asked Felicia what guys like better, her big tits or her shapely butt, and she said, "I think they love my tits a little more than they love my ass, but a lot of guys have told me that because my breasts are so big, they make my butt look just a little bit smaller."

Fortunately with Felicia, you don't have to choose because she's perfectly okay with you fucking her tits or her ass or both. She did get ass-fucked for us.

So, anyway, here's Felicia in a classroom. Photos and video. In the video, she gets interviewed and oils her tits. Very instructional. Your final exam is to successfully jack off.