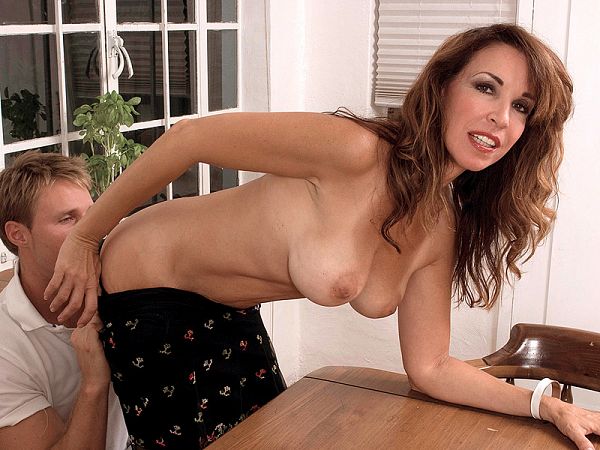 When this scene opens, 50-year-old Gia Giancarlo is standing in the kitchen and watching her daughter make out with a guy. When her hand sneaks over to his crotch, Gia says, "Stop playing with your boyfriend's dick and go to work."

So the daughter goes off to work, but she makes a major mistake: She tells her boyfriend to stick around until she gets back.

Why is this a major mistake? Because the boyfriend is a major horndog, and he lets Gia know how hot she is. Before long, he's groping her tits and she's sucking his cock and then he's fucking her MILF pussy.

Like daughter like mother, right?

"The reason I chose to do this is because I love to fuck," Gia said. "It's really not much more difficult than that. Anytime I can suck on a cock or have a guy fuck me until I cum hard, it's a blast for me. I've met a lot of great people doing this and have had a lot of fun. But the reason I keep doing it is because I love the feeling I get from sex. And I love that at my age, you still want to see me do it. I'm a mature woman. I'm not shy."