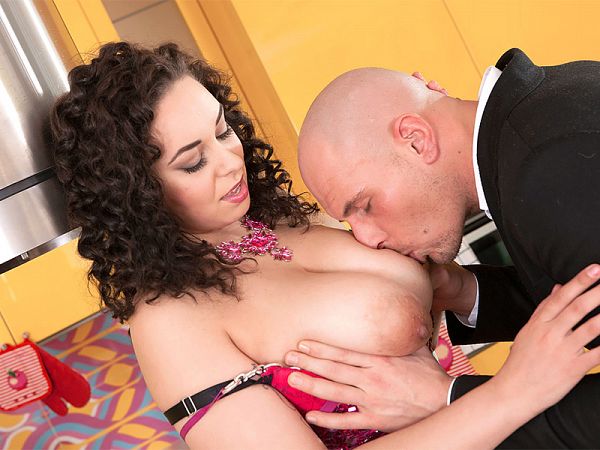 "I enjoy taking my time to make sex last," very sexy and very curvy Anastasia Lux said. "I like to do it all night long and I like cuddles. My favorite positions are doggie style and being held against a wall. Erotic massages always work for me. Kissing is a real turn-on and so is having a mirror in the bedroom to watch myself and my partner."

Anastasia came our way when her pictures were submitted to Naughty Neighbors.

"Hold it right there," we collectively said. "Stop the presses. This girl is not a naughty neighbor. This girl is a total Voluptuous Girl. Look at those big, heavy tits!"

Our studio connected Anastasia and invited her to our studio. As for doing porn, Anastasia was good to go for that, too. After she appeared at SCORELAND and in V-mag, everyone wanted more.

I chatted with Anastasia following her first shoots with us.

Anastasia, how did you get into nude modeling?

Anastasia: I started with fashion modeling at a very young age. By that time, topless levels were normal in the industry but I still refused as I wasn't comfortable with it. After I turned 18, people started asking for implied nudity and such, but I only got into nudity in mid-2014. I had to feel comfortable enough in my own skin to be able to do it.

Do you watch adult videos at home? What kind do you like?

Anastasia: Yeah, sometimes I do, gotta confess. I watch lesbian movies, interracial with really fit guys, Latinos and more.

Do you think that becoming a model and having sex on-camera has increased your personal sex drive?

Anastasia: Nope! I've always had a big sexual appetite. I'm always ready to get it on.

What's your favorite SCORELAND boy-girl video?

Anastasia: I like my first video for SCORELAND. That was soooooooo amazing. I cherish that moment!

This is that first scene.
See More of Anastasia Lux at SCORELAND2.COM!