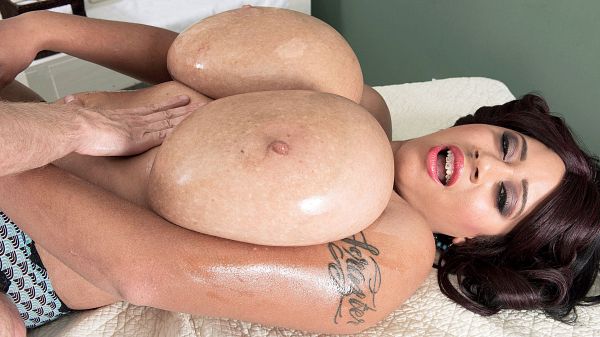 Now you can rub down Roxi Red on a massage table in a virtual video where you're the masseur. And much more. Sound like a plan?

Roxi gets on her tummy. She's just wearing a bra and panties. They slip off really easy. Roxi says you can take her bra off. She's very accommodating. You work on her back first, oiling her up.

Roxi flips over and--whoa!--her titanic twins splay. Seeing is believing. A giant wouldn't have big enough hands to completely palm those sucklers. They're beyond belief. But they are real, incredibly real. You oil them up and massage the stuff in well.

Roxi's panties are in the way. They come off really easy too. You move to the head of the table to massage Roxi's big supernatural tits from another angle and that's where she reaches for your dick. She's purring like cat-woman. Once that happens, you're on top of her in a flash, your cock totally buried in her deeper-than-deep cleavage. After you've fucked each other like crazy on the massage table, you nut her massive mams. Roxi thanks you for that. That girl is so polite and sweet.