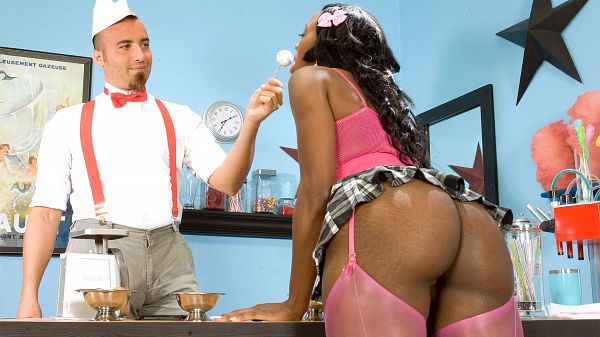 Kiki Carter is a low-maintenance chick. You can leave all the bells and whistles at home with her. For example, if you ask her what her perfect idea for a date would be, her answer is pretty simple.

"Just having a good time and not overdoing it," she said.

Or what she finds sexy:

"A naked, muscular guy," she said. "I just want to get fucked. I love dick. Especially when it's in my mouth."

Knowing that Kiki has a taste for cock and lollipops, we decided to hook her up with our boy Peter. He has a candy shop filled with treats in nearly every flavor. And of course, he's got Kiki's favorite man-meat treat tucked away in his pants.

After tasting a few of Peter's most-choice lollipops, Kiki pulls his throbbing cock out of his pants and gets to work. This is what she wanted all along, and Peter gives it to her in every hole. He fucks her face, then her cunt and even pops his fat cock into her ass. And when you're fucking a chick with an insatiable taste for dick, you've got to drop a heavy load on her trunk, and Peter drops a big one. Yeah, Kiki's a low-maintenance chick, but she's a high-quality fuck.