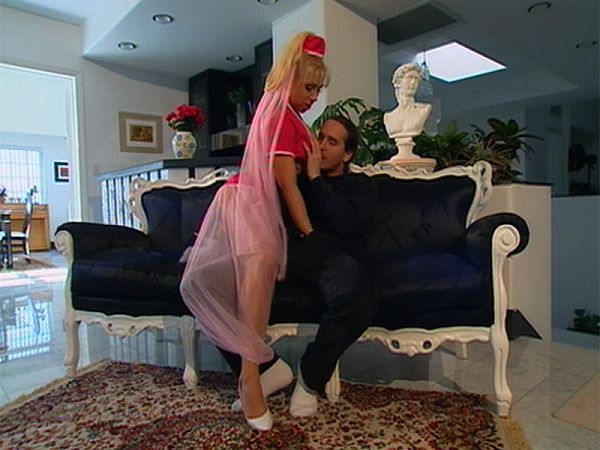 Lovette entered porn in 1995 at the age of 22. At the time, the blonde from South Bend, Indiana didn't have the giant tits she does in this hardcore genie scene based on that popular TV show. Nick East gets to fuck Lovette in the butt. Anal was something she was well-known for. The video is totally unedited.

Before she supersized her boobs, Lovette was Max Hardcore's go-to anal fuck-doll. All told, Lovette performed in around 300 videos, from masturbation to anal and bukkakes, and she was a popular girl on the strip club circuit, constantly on the road.

Lovette was spotted at a video convention sporting huge boobs and that brought her to the attention of SCORE. With spectacular measurements of 44-25-35, Lovette was the covergirl of November 2000 SCORE and was invited to a shoot in Puerto Vallarta, Mexico. She used one of the pictures we gave her for her business card and for the banner she used at her table at dance clubs and porn expos.

"In 1996, I did a movie every day, sometimes even two movies in a day," Lovette said in an interview shortly after her Mexican trip. "That just got to be assembly line work. I was living in L.A. and I was doing movies for a living and just pumping the stuff out. Because that's what they tend to do to new girls, get you out there and just use you up. So the best thing for me was to just stay away and take L.A. in small doses. I've been coming out one week out of every month, so I end up coming out about 12 weeks a year."

Lovette retired in 2008.