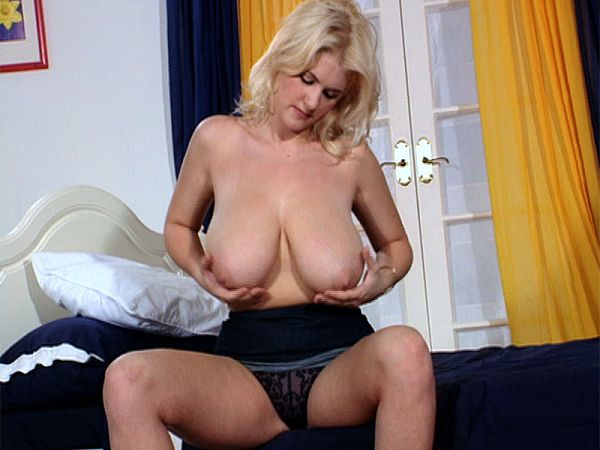 When our London-based photo team first met Linzi Cassidy, she was 18 years old and table dancing in Liverpool at a club called Angel's Paradise. They made her an offer and she traveled to London for her first shoot. On a free night, Linzi said she liked going dancing at the Liverpool music venue Masque on Seel Street.

"My Mum has huge breasts, bigger than mine. I think that's where I get my bosom from," naturally busty Linzi said. The blonde stripper was new to playing with toys on-camera but she was a quick learner and listened to direction. Later on, Linzi did girl-girls with Charlotte and Russian Kathy (aka Katarina-Nikita).

Here's some trivia about British strip clubs: In the past, when dancers walked around the club looking for tips, before or after a dance on-stage, they carried a pint glass or a jug, because the tips were usually coins (the smallest paper note in the UK is 5 pounds). This practice is, or was, known as "Jugging."

This uncut video with original audio is a perfect example of how Linzi and other newcomers were expertly verbally directed in their scenes. Directing a model is a skill. Many photographers either don't have that skill or the ability to express exactly to the girl what they want her to do. Some members have written in to say that they find the raw videos more interesting and even hornier than the polished versions with the audio wiped and music added.
See More of Linzi Cassidy at SCORECLASSICS.COM!