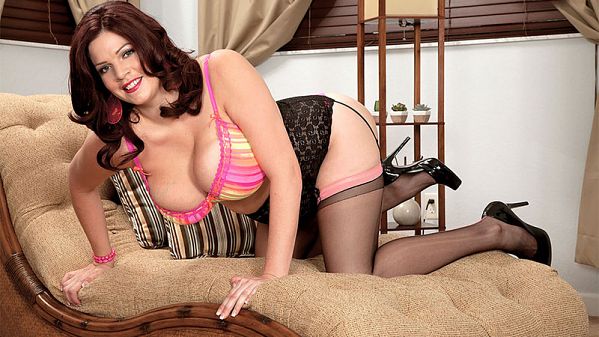 If Anjii Ross and her natural 45-inch boobs were bouncing in a strip club near our office, your editors would be there after work like greased lightning clutching a roll of dollars.

But sadly for us, and our neighbors, Anjii is not a dancer. It wasn't long ago that super-stacked babes like Anjii Ross were dancing in clubs, either moonlighting or doing it full-time. Now more girls are going into web-cam modeling and Anjii is one of the net generation.

A Florida girl who loves the sand and surf and wearing out bikinis, she's had sex on the beach, and we don't mean the drink. "I like foot play, playing with my titties and putting toys and fingers inside my pussy until I orgasm," Anjii revealed.

"I really love my Hitachi wand, too. I enjoy girls so I continue to play with women when I can. The kinkiest thing I've done was going camping in the woods and getting dirty in the bushes." Describing her special talents, Anjii says, "I am the best titty fucker ever!" A bold claim, but Anjii definitely has the assets for the task.
See More of Anjii Ross at PORNMEGALOAD.COM!