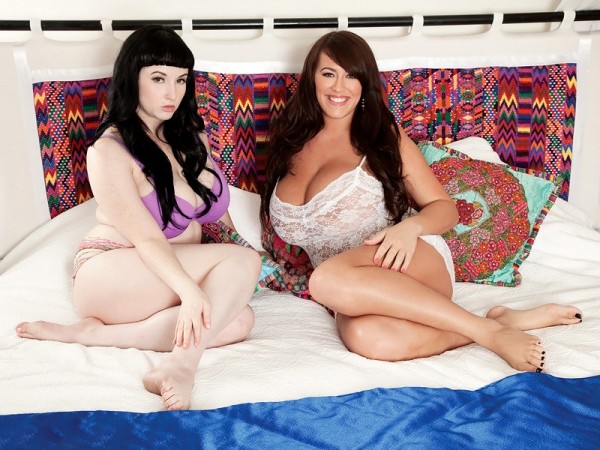 Jenna Valentine and Leanne Crow became bosom buddies during the making of On Location Puerto Vallarta. Pillow fighting became a custom. You could watch that all day. Everyone lived together in a swanky house high in the hills overlooking the Pacific. It was a United Nations of Big Boobs. There was Hitomi from Japan and Natalie Fiore and Micky Bells from Europe. After everyone went their separate ways, Leanne and Jenna kept in touch.

When Leanne visits America, she always checks in with her good friend Jenna who lives in the Los Angeles area. It's interesting that it's the Brit who's tan and the American who's ivory white. The girls chit-chat about exercise and fitness. Each has her own idea of how they want their figures to look and other topics near and dear. They have a tablet on the bed and they decide to answer some fan questions. Jenna asks Leanne if she's ever noticed that SCORE videos have pillow fighting. This is an invitation to swing pillows at each other and bounce up and down on the bed, mashing their soft, large knockers together in hooter ecstasy.
See More of Leanne Crow at LEANNECROWVIDEOS.COM!