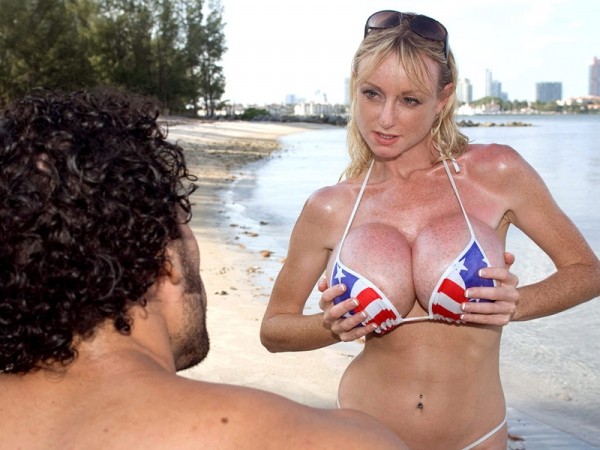 If you had asked me which SCORE Girl who has never done hardcore would be best at doing hardcore, I would have said Angela White and then I would have said Morgan Leigh. Angela, of course, took the hardcore plunge, but the scene you're about to see is Morgan's only with a guy, a tits 'n' tugs scene in which Morgan, clad in a bikini that her J-cup tits are destroying, yanks and tit-fucks a real dick and jacks a load all over her tits.

There are several reasons I think Morgan would have been so good at doing hardcore. First, she's extremely comfortable in front of the camera. Second, she has a dirty mind. Third, she has one of the nicest pussies I've ever seen. And, most of all, I've never seen a girl handle a dildo like she does. Never, ever in the history of SCORE has a girl fucked her pussy with dildos (and fingers) the way Morgan does. And if she's that good with a dildo, I can imagine how good she is with a cock.

"Very good," she once told me in her sexy British accent. "And I'm good with them for the same reason I'm good with dildos and vibrators: I practice a lot!"

Morgan, like Cindy Cupps and Crystal Gunns, said she would do an on-camera tits 'n' tugs scene once and only once, so we knew we had to make the best of it. A bikini, a beach and Morgan at her lusty best made for a great scene. It's a true fantasy scenario with Morgan walking up to a guy on the beach and offering him a hand party.

"I like the thought that my boobs give someone so much pleasure," Morgan said. "It's not so much power with me. I like to pleasure someone and make them feel good. I can make a man cum in two minutes, less than two minutes, just by showing my tits to him, before he even touches me, just by me playing with my boobs. It's power, but it's more that they're getting satisfaction from me. I think that's one of the reasons men like me so much. I'm not selfish in bed. I'm more of a giver than a taker!"