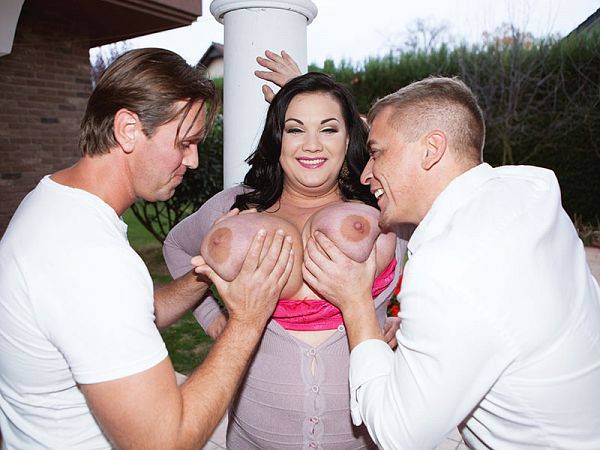 Nila Mason and Steve Q are making out in public because they're too hot for each other to get to the bedroom. They're well acquainted with each other. Nila once gave Steve a massage that resulted in a very happy ending. Then there was another time when they got it on and Nila let him fuck her ass in a rare anal date. On their third meeting, Nila did her only threesome with Steve and Max Born. And now here they are on their fourth hook-up. You need a crowbar to separate Steve from Nila's plush, lush body and massive tits.

Steve pulls Nila over to a shaded area and backs her against a column. She takes her beyond-belief boobs out of her top and Steve kneels to suck on her perky nipples. "I know I am very lucky to have such a woman," said Steve. Meanwhile, Tom is enjoying the show from a distance and sneaking up on them for a closer look. He's also had the opportunity to sex-up Nila too.

Steve whispers in Nila's ear, trying to interest her in doing him and Tom. He doesn't need to seduce Nila into it. She had a good time with Tom the first time and she's good to go with the idea of two men to enjoy. The guys each take a breast and suck, but before they pass the point of no return, they take Nila to Steve's place for privacy and a hard, rough double dick-down. Giving back as horny as she gets, Nila is much more than a handful. She's too much woman even for two studs.
See More of Nila Mason at XLGIRLS.COM!