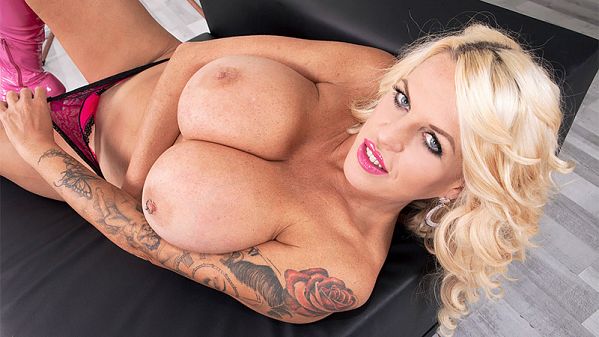 Shannon Blue loves parading and strutting around in her over-the-knee, kinky, pink boots and pink top that lifts her massive breasts high. One of the shortest shorts possible and pink panties complete the hot look Shannon loves. Making guys' heads explode when they see her like this makes Shannon a happy lady.

"I like to wear Latex," said Shannon, a British MILF who changed her life completely, supersizing her tits and becoming an adult star. She originally attracted a lot of attention through stories published in the British tabloid newspapers. That road led to SCORE.

"I don't think I have any special talents, but who needs talent when you have large breasts," Shannon said. We have to disagree. Shannon is loaded with talent. And in this scene, she's also loaded with oil. Shannon's made the decision to do hardcore. The countdown has begun. The date will be announced on the SCORELAND Blog.