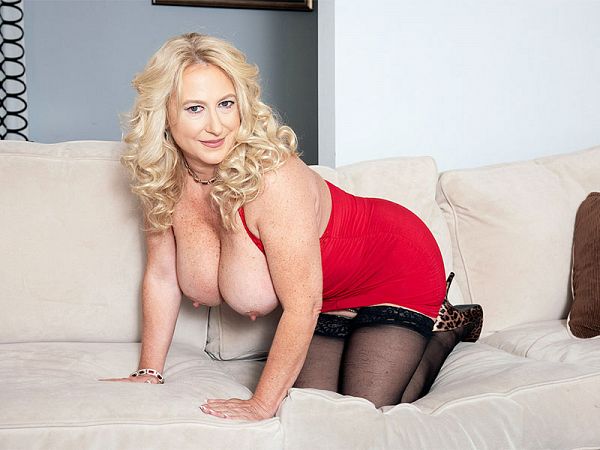 "I love sex," said Nina Bell, a 48-year-old divorcee and mom from Malibu, California. "I masturbate on-cam a lot. I love toys. I love my vibe. I even have my boy toy play with me like that. I like it on my clit and on my nipples, too."

In her return to 40SomethingMag.com, blonde, big-titted Nina is wearing a short, tight red dress that shows off her big tits and panties with pearls.

"I'm just so horny," she says. "I'm so wet."

She bunches her tits together and runs her hands all over her body, down to her pussy. Then she takes out a big, plastic fuck toy and says, "I can't wait to suck this hard, young, sexy cock."

What follows is an impressive blow job demonstration by Ms. Bell in which she treats that plastic dick like it's the real thing, swallowing it and getting it nice and wet for her pussy. Then she fucks her pussy with that toy before taking out an Hitachi wand and buzzing her clit.

"I love my toys," she says.

We can tell. She also loves real cock, as we'll see again on Thursday when she sucks and fucks another one of our studs...one with a real cock, of course.

Nina told us that one of her hobbies is "exploring new masturbation techniques and buying new sex toys." That's a unique hobby but one we wholeheartedly endorse, especially if she's going to show us how she uses them.

She also said, "I'm a normal chick. I'll wear jeans, I'll wear heels, I'll wear low-cut shirts. I try to be sexy but fun. Comfortable."

Sexy and fun...that's Nina in a nutshell.
See More of Nina Bell at 40SOMETHINGMAG.COM!