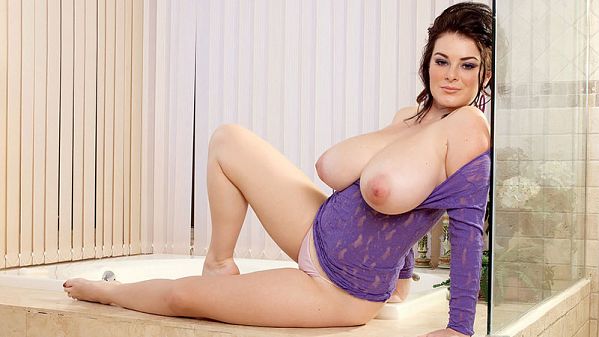 "I'm camera shy!" said Karla James. "And I'm scared to death of video cameras."

Karla's first photo shoots made her so nervous, she brought along her mother. For this photo and video shoot, Karla had joined a special group of big-boobed girls in The Bahamas for a week-long shoot.

"I like to dress provocative and sexy. Tight skirts, tops. It's hard to get tops that fit me, so I usually have the big cleavage thing going on. It is really hard to find clothing that does not emphasize my breasts.

"If I wear loose clothing that does not show my figure, then I look overweight because of the size of my breasts. So mostly I wear tight clothing to show my figure.

"In the winter I wear skinny jeans and elegant tight tops with trainers or high-heeled boots. In the summer. I flaunt my breasts and figure. I wear skirts and vest tops and high heels or sandals."
See More of Karla James at PORNMEGALOAD.COM!