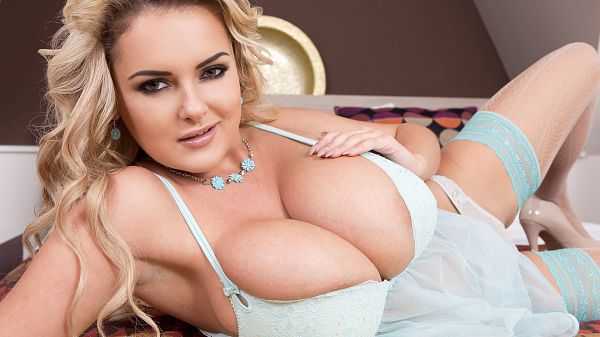 When it comes to girls who personify the SCORE Girl, British bra-buster Katie Thornton is in the top 10. When I say personify, I mean just the girl, her face and her body, how she relates to the camera and her effect on guys, not what she does on-camera. Forget the hardcore porn, the girl-girls, the masturbation and all that. There's a reason Katie's on four SCORE magazine covers. She's got the look.

Katie won SCORE Newcomer of the Year for 2015. Katie was the second Brit to win SCORE Newcomer. Lily Madison won the previous year.

Katie then parlayed that award into winning 2016 Model of the Year, dethroning prior winner Hitomi.

Being on the cover of SCORE on magazine racks around the world got Katie out there big time. The Manchester girl was a teen when she became a model. She sent her photos to an agency and they put her to work two days after her 18th birthday.

Katie also has her own beauty salon, and that seems like a natural business for her. Her goal is to operate a chain of salons.

There was one thing about Katie I would have never guessed in one thousand attempts: She likes to get tied-up, strung-up and ball-gagged. She just doesn't look or sound like the type, but she is. It's not only about getting a pay day by weirdo bondage photographers. She seems genuinely drawn to being roped and says she's very submissive.

"The thing is to not be embarrassed. Everyone has some kind of fetish." Katie explained.