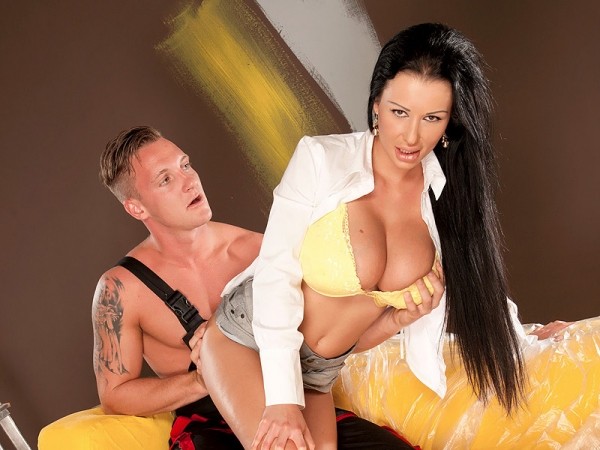 The painter is going over some color schemes with SCORE Girl Patty Michova, but he's more interested in splattering Patty with his nut-juice than in any home improvement work. Instead of giving him the brush, Patty goes along with his approach. She's horny too.

Patty's big tits get a feel-up, a sucking and a squeezing. That warms her up. Stripping down to her panties, she reaches for his tool. They pull it out of his overalls and she goes down on it, licking and sucking it hands-free.

European girls like to suck cock hands-free. That's good because their hands and arms can't block our view of their dangling tits as they take the cock in and out of their mouths. Patty makes sexy popping sounds as it exits her throat.

Matt can't keep his hands off Patty's big tits. He lays her back on the plastic-covered couch and spreads her legs open, pulling her panties to one side so he can lick her clean-shaven pink slit. It's a box lunch for this busy workman. Patty writhes in pleasure as her pussy is licked and finger-tickled. Then she slips out of her yellow panties, leaving on her high-heeled slippers. She stands over his pipe as he sits on the couch and lowers herself down on it. It gets in deeper and deeper. The thrusting begins. The brunette stunner not only enjoys getting fucked, she likes to fuck back. Watch her moves. Patty is one horny hot-body.

Estimated time of home improvement job completion: never. And the only deposit Patty will be getting back will be all over her pretty face.