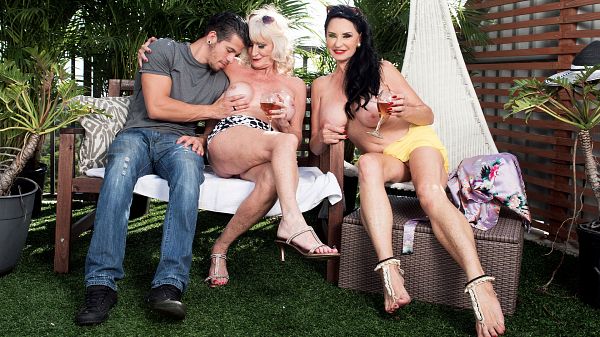 "I'm up for almost anything," 64-year-old wife and granny Leah L'Amour said. "Anything, anywhere, I'm up for it. I don't know what's happened to me. The older I get, the more I love it."

Okay, so Leah said she's up for anything. But is she up for a three-way with 66-year-old Rita Daniels, one of the greatest and horniest grannies ever, and a 28-year-old stud?

Can she eat Rita's pussy while getting her pussy fucked?

Can she sit on Rita's face while Rita is getting her pussy fucked?

And what will happen when the young guy starts pounding Rita's asshole? Can Leah stand the heat?

Yes, yes and yes! And now, in one of the hottest scenes we've ever filmed, Leah and Rita share a young cock and give this guy (and us) the time of his life.

Can you imagine getting to fuck these two women? Two beautiful, big-titted women. One a blonde, the other a brunette, both hornier than 99.9999% of the population?

What would you do if you got to fuck Rita and Leah at the same time? How long do you think you would last?

Bonus: This scene takes place outdoors. We flew Leah and Rita to Miami, Florida especially for this scene. They spent several days together. Very obviously, they got to know each other well.

Enjoy.
See More of Leah L'Amour at MILFTHREESOMES.COM!