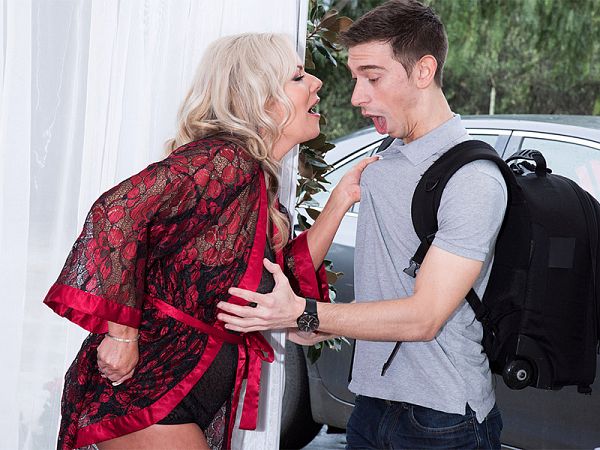 Samantha Jay, a 42-year-old wife and mom with blond hair and big jugs, is looking out the window when she sees Patrick, her son's friend, walking up to her door.

"Patrick, come over here," Samantha calls, even though she's wearing very little clothing.

Turns out Patrick was supposed to meet Samantha's son, Bobby, for a study group, but Bobby isn't there. Patrick isn't happy about that because he had to take the bus all the way across town to Bobby's house.

"Why don't you come on in?" Samantha says. "Sit on the bed."

Patrick is so nerdy and clueless that he doesn't realize Samantha is coming on to him. She's showing off her cleavage and her long legs, but he still doesn't get it.

"Don't you have a girlfriend?" she asks. Patrick says he doesn't. "A boy your age needs a girlfriend," Samantha says.

She rubs his crotch. "Have you ever been with a woman before?"

He says he hasn't.

"Would you like to try?"

"Bobby can't find out," Patrick stammers. "That's real risky."

Samantha is worth the risk. She takes off her robe and shows him her pussy.

"Can I touch?" Patrick says.

Yeah, he can touch her tits, her pussy and a whole lot more. Before Patrick knows it, Samantha has his cock in her mouth. She's blowing her son's friend! Then she's fucking her son's friend! Then her son's friend is cumming in her MILF mouth!

Members, have you ever fucked your friend's mom?