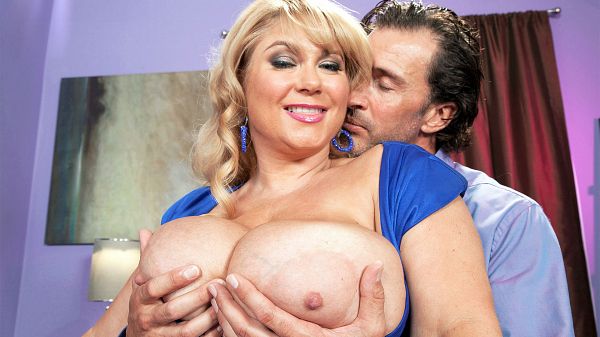 "Screw the party and screw my ass!" Samantha tells her squeeze. They're dressed and ready to go to a party, but Samantha is not in the mood for a room with lots of people socializing. She'd rather surf the bed sheets. The offer is too good to refuse.

Tony would be a dummy not to accept the invitation. He can't leave her behind. Samantha is too hot, too stacked. Her ass is too fuckable, too slappable. So with party plans cancelled, he feasts on Samantha's massive tits. She sits on the bed and opens his trousers to release the pipe. Massaging his ball-bag in one hand, Samantha licks and sucks him hands-free.

She flicks her tongue on the cock-head and makes slurping sounds as her lips slide down the shaft. She drools on it and they change cock-sucking positions several times. Samantha lies on her back so he can fuck her mouth. Their first fuck is a cowgirl, then missionary. As he plunges into the blonde bombshell's bushy pussy, she reaches for a mini-vibe to buzz her clitoris as his cock strokes in and out. Their asstounding moment approaches. Booty-hole banging time is here.