"I'm definitely passive and I love deep penetration the best," Veronica Bow said. "I love giving blow jobs." Sean gives Veronica that deep penetration she craves and a whole lot more, and Veronica swallows his stiff prick and tit-fucks him with her 38H-cups.

But before all of that, there is a back story that may bring a tear to the eye. You see, our friend Veronica was dressed for date night in a crazy-tight dress, her huge tits spilling out. Then she gets a text from her man. It's a "Dear Veronica" see-ya text, a stone cold way to kick a girl to the curb.

Steaming from the rejection, Veronica goes over to the window and sees her neighbor Sean getting some sun. She taps on the window and waves him over. Sean is puzzled why. Veronica has him come in and walks him to her bedroom where she tells him her boyfriend's busted up with her. Sean's eyes pop looking at Veronica's large, meaty knockers and says the guy must be an idiot. Which, of course, he is.

There's only one thing on Veronica's mind. A revenge fuck. There are two things on Sean's mind and he wants to stick his dick between those two things. He plays with Veronica's fun-jugs and strips her down, squeezing and rubbing her fleshy body. Veronica has the kind of pliable tits that are good for self-sucking. She shows Sean how she can taste her nipples. He tastes them also.

Veronica wants to blow and boob-bang Sean, but before she does, she wants to send her now ex a fuck-you selfie. Getting on her knees, she fills her mouth with Sean's bloated shaft and takes a few shots, then hits send. With that out of the way, now she can really get to enjoy cock filling her mouth. Sean fucks Veronica's boobs hard as she kneels and squeezes her tits together.

Veronica can't wait for her pussy-hole to get stuffed by cock. She climbs on top and pulls one ass cheek to the side so he can wedge his dick inside her and pump away at that tight cookie. Revenge is sweet for this dumped girlfriend and just as sweet for the new guy who gets, not only next-door-neighbor pussy, but a horny neighbor with heavy hooters.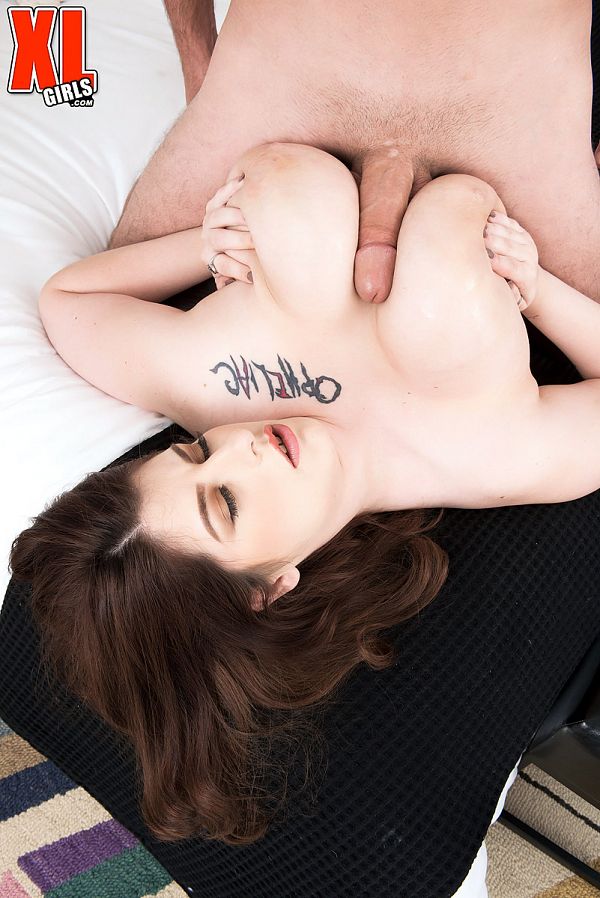 See More of Veronica Bow at XLGIRLS.COM!