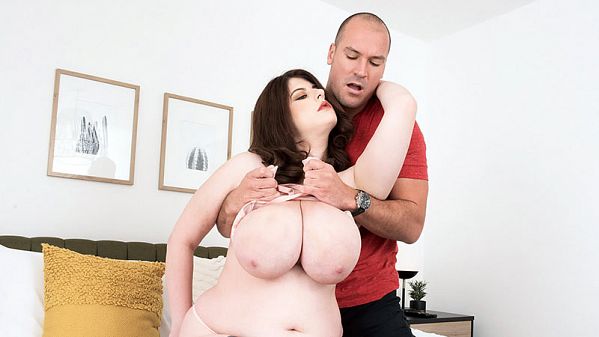 Veronica Bow is waiting for her boyfriend to show up for their date. She's wearing a body-clinging dress, so low-cut, her 38H-cups are falling out. This is what all girls should wear on date night. Then Veronica gets a text from him and it's not a good one. She's being dumped by text, a shameful, dastardly thing to do to a young lady, especially one with big ol' titties.

Fuming, Veronica looks out her window and sees neighbor Sean lounging in the sun. She taps the window with her fingernails and summons him over. Since he knows she has a man, he doesn't know what she wants him for. His first clue will be when she takes him into her bedroom. Sitting on the bed, she explains the sad situation. Staring at Veronica's tits, Sean tells her he thinks her boyfriend is an idiot.

Veronica could use some consolation sex right now and Sean is happy to be the consolation prize winner. He reaches out and squeezes her soft, ripe, juicy melons, then gets behind her and goes to town on them. Veronica can suck her own boobs easily so Sean lifts them up so she can show him. He takes off her bra and dress and feels her up, squeezing and fondling her body.

Veronica has him get on the bed. He leaps on it and Veronica kneels over him to take his cock out and yank it. Praising his size, she sucks on the head for a few seconds, but before she gets to some serious lip-locking on it, she wants to take a few selfies of the two of them so she can text them to her ex-boyfriend. Revenge is a scorned girl sucking another man's dick and sending him the proof. Veronica gets on her knees and takes and sends him a couple of selfies with Sean's prick in her mouth, the ultimate fuck-you to a bigger prick.

Sean is eager to smash the fuck out of Veronica's pussy. They begin with Veronica riding him on top, her tits covering his face, her hand pulling on one ass cheek. He slaps her big butt hard. This could be the start of a beautiful friendship. Good fucking makes for good neighbors. Veronica gets the stuffing she needed.

After Sean spurts his load all over Veronica's hooters, per her request, she rubs the nut-butter into her skin. As a last fuck-you to her ex-squeeze, Veronica snaps a selfie of her jugs shiny from Sean's semen and presses send.
See More of Veronica Bow at PORNMEGALOAD.COM!