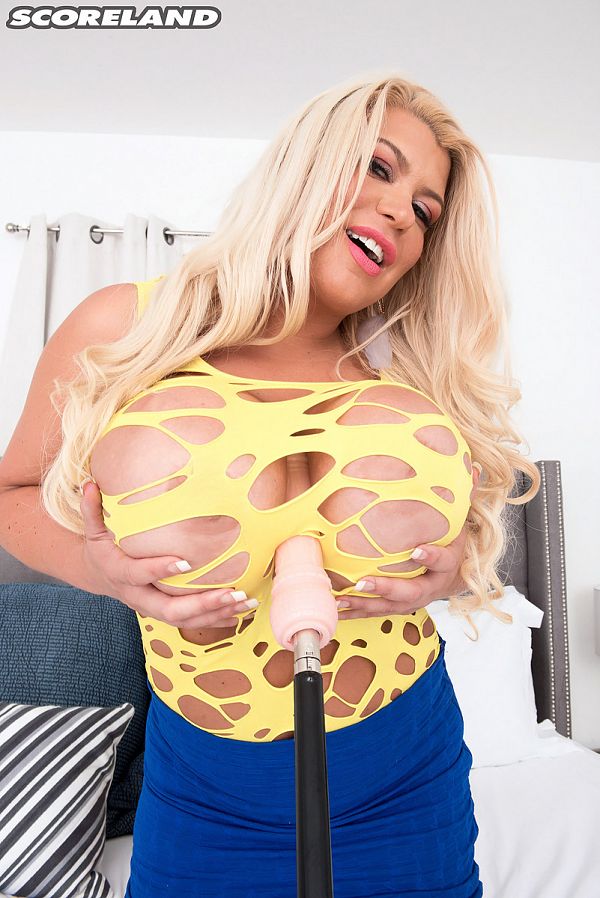 Victoria Vale is a fantasy woman of Amazonian proportions. You've seen science fiction movies (Amazon Women of the Moon, Queen of Outer Space) and TV shows (Buck Rogers, Star Trek) about astronauts meeting stacked alien girls? Victoria Vale could star in them. Victoria goes high tech with a sex machine in this scene. We were expecting the machine to blow a fuse. Luckily, it didn't. But we did.

SCORELAND: Do jealous women ever say anything about your breasts?

Victoria: They sometimes whisper to their friend, boyfriend or husband and point at my breasts. One woman said "Her boobs are just ridiculous! They're way too huge!" It never bothers me. I just smile at them and go on with my day.

SCORELAND: Do you have any girlfriends with big boobs like yours?

Victoria: I do have a few, but not really with ones as big as mine.

SCORELAND: Too bad for us. Have you ever seen another woman ever hit her husband or boyfriend for staring at you?

Victoria: Oh, yes, absolutely! Fairly frequently.

SCORELAND: Do you belong to a fitness center? Do guys try to talk to you when you are there?

Victoria: Yes, guys always eye me up on the cardio equipment. My boobs bounce like crazy!

SCORELAND: What kind of nipple play do you like a man to do?

Victoria: I love gentle sucking before and during sex.