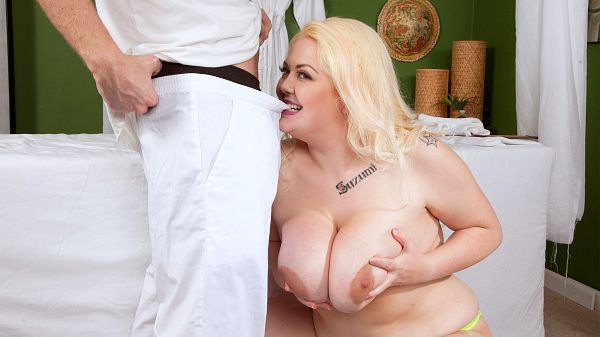 "I've been feeling some tightness in my shoulders and back," Suzumi Wilder says. "I was thinking I could use a full-body massage."

Ah, how we wish it were our hands running up and down this full-figured fox. Suzumi signed up for a full-body massage, but what she gets is the hardest pussy-plugging she has ever gotten.

Tony sneaks a peek as she takes her clothes off in preparation for her massage, and understandably, he likes what he sees. Tony does try to keep it professional when he begins, but he just can't help himself as he rubs hot massage oil into Suzumi's soft breasts and plump ass. Suzumi is enjoying it, too, letting out soft moans intermittently.

"Do you have any stressed areas in your inner thighs?" Tony asks.

"Oh, yes," Suzumi responds. "Definitely."

Tony begins massaging her inner thighs before sliding a finger into her cunt. He's hit the soft spot that will release all of Suzumi's pent up stress. Being the master masseur that he is, Tony focuses on the stress inside her cunt, but he'll need something bigger than just his fingers to release it. He needs his throbbing, hard cock--which Suzumi is begging for at this point. And just to be sure Suzumi leaves a satisfied customer, Tony even throws in an anal fuck on the house.