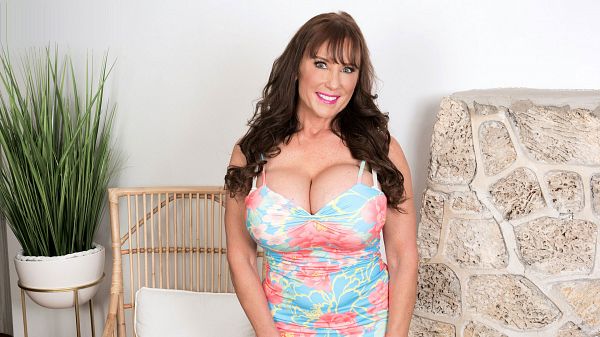 "As an amateur I worry sometimes that I'm not hot enough or the guys don't like me enough but my view numbers and comments keep going up so I guess I must be doing something right? I really did have a blast and would love to come back. TSG always treats me so nice."

So said reader's WILF Shelby Gibson, a super-busty, super-horny lady who is definitely doing it right. Part of Shelby's appeal is that she's not a professional adult entertainer or doing it for money. She appears at SCORELAND for fun and her husband's pleasure and she loves being photographed.

Shelby Gibson bought a sexy dress just for this scene. She'll probably wear it when she goes out and give people an eyeful of her busty and curvy body.

It's obvious that Shelby has a hot rack and she dresses for herself and her husband. She says she doesn't get recognized in public from her appearances but people can see that she's special. No one stops her and asks if she's Shelby Gibson.

"When it's nice out, I wear tank tops, bathing suit tops, shorts, sun dresses. It's obvious that I'm busty. I never try to hide it.

"My husband calling me his 'Everything Girl' is the best. But I love when guys tell me I have beautiful eyes. That means they are actually looking at my eyes! I guess the worst is when a guy comes up to me and says, 'Nice tits,' without even saying hello."