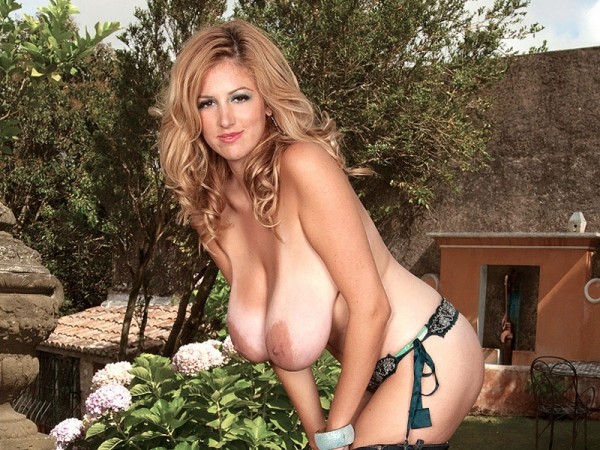 I found Israeli hottie Eden Mor on the Web back in late 2003. Born and raised in Tel Aviv, Israel, she was living in London, England, where she was a university student at the time. We lucked out because we had a photo studio in London (where many of the classic SCORE Girls, like SaRenna Lee, were photographed), and it didn't take extensive planning to photograph Eden.

I don't always have good luck on the Web finding new, really busty girls who will pose to expose, but this time it worked out.

At the time, Eden wore a 36FF- or G-cup bra (depending on the manufacturer) and was thicker than she is in this video. She told me her big boobs weighed 7.3 kilograms (or 16 pounds).

Later, we invited Eden to a huge group shoot in Spain with Crisa Angel, Joana, Florri, Kelly Kay and Bozena. There's a set of them together lined-up topless, and it's mind-blowing.

When it came time to shoot a new SCORE feature movie in Europe years later, we invited Eden along, and she accepted. The movie is called Big-Boob Finishing School, and it co-stars Valory Irene, Arianna Sinn, Lana Ivans, Sophie Mae and Michelle Bond. Written in the style of a comedic nudie-cutie (no guys, mostly nudity and hot clothes, some toy play), the flick was shot in an old, impressive villa in Portugal, a place where time has stood still.

During a break in the shoot, Eden and a cameraman went off to make this video of her stripping and rubbing one out. Eden's thinner now than she was in 2003 and 2004, but she's just as sexy and still has those big, floppy hangers with their huge, impressive areolae, one of her stand-out attributes.

In areolae size, Eden is definitely up there with Cindy Cupps, Maria Moore and Michelle May. I've thought about proclaiming a National Areola Day with these girls as the poster girls.