The Girl-Next-Door Named Sarah Lee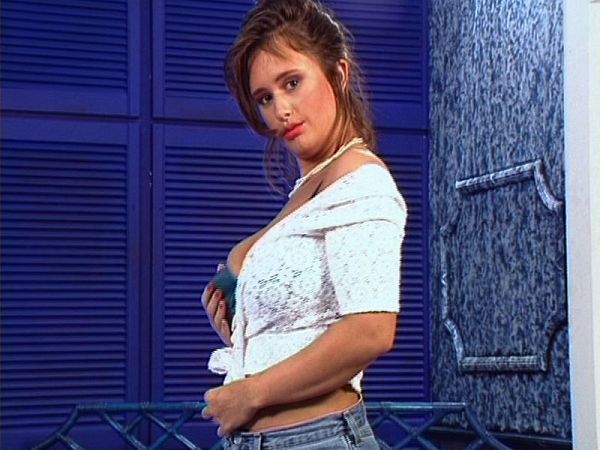 Sarah Lee was slim enough for SCORE magazine (June 1995, July 1996) and naturally busty enough for Voluptuous (October 1995, June 1996). Sarah was very big-breasted by society's standards but on the smaller end of the spectrum by SCORE standards.

When it comes to big-bust modeling, a girl with Sarah's body has to be careful not to lose any weight. If there's weight loss, it's almost always from her breasts first. There's also no guarantee that any weight gain will go to her breasts, although it does happen.

Aside from size alone, which is not the be-all end-all, Sarah's tits were extremely pliable and tuggable. She could pull on her nipples and stretch her breasts. They were floppy, a term meant as a compliment here.

The photographer has Sarah suck, pull and tug on her nipples in the first part of this uncut video. She gets on her knees and keeps her tits dangling over the bed, one hand propping her up, the other hand rubbing her furry peach. In this position, the cameraman can capture her hanging and swinging tits.

The photographer swings around Sarah so we can see her ass and her fingers rubbing her pussy from behind. When she gets on her back, her tits splayed to the sides, she continues to rub her lips without the toy she used in the other video.