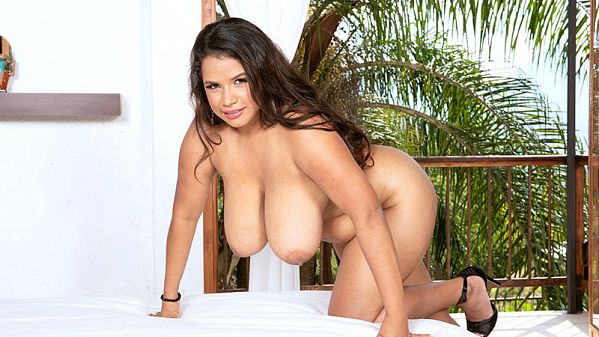 You'll fall in love and lust with Isa Gomez. Her exuberance, sex appeal, huge tits and dangerous curves bust through and make you her prisoner. She has an inviting personality both off-camera and on. In the opener of this video on the balcony, Isa explains how she came to XL Girls. At first, Isa was hesitant but her apprehension quickly melted away. She explains that it's difficult for her to buy the right bras because she's so chesty.

A girl who loves to show off her body and likes to be appreciated for her curves and big-boobs, Isa does a strip dance on the balcony and then goes into the bedroom to comfortably lie back and get hands-on so she can cum. She says she would like to do this for many years to come.

Isa enjoys reading and watching TV. She likes to watch porn also. Since Isa speaks only Spanish, we've added English captions. Part of her breast playing and dancing on the balcony was shot in slow motion. After Isa cums, she licks her fingers to taste her juices, a very horny way to say bye for now.