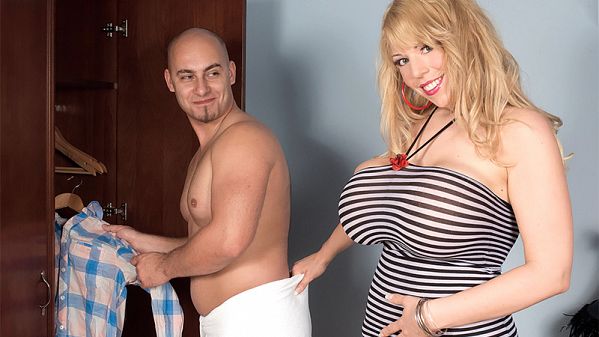 "Alexa has a saucy, bawdy sex personality," her TSG photographer Jose reported from Europe. "She's very energetic and eager-to-please, very flirty and outgoing. I can imagine her being the life of the party.

"I love the combination of Alexa spreading wide so we can get a clear look at her pussy and asshole while she licks his cock. It's not a breast-oriented shot but it's definitely a very hot shot.

"Alexa was happy to do a tits and tugs with Neeo, a big-cock local stud I've photographed before. Neeo loves big titted women and likes to take control of them when he has sex. There's much nipple-sucking and licking, titty-squeezing and lots of tit-fucking in different positions. I shot this in a mix of POV and third-person to get more variety and different angles of Alexa's tits. They went beyond the usual "tits and tugs" right away.

"Alexa is a beautiful head-giver. She took his cock all the way down and Neeo, very excited by Alexa's breast-size and her overall looks and enthusiasm, took over and fucked her mouth and cleavage like it was a pussy."