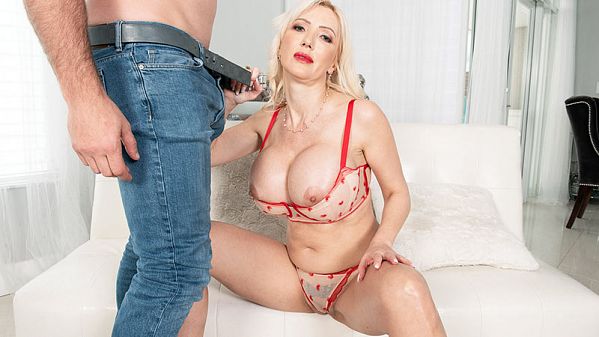 Victoria Lobov, a 47-year-old wife from Russia, is standing in front of a mirror, checking out her body. She's wearing a sexy bra and panties. Her huge tits are bulging out of her bra. Her body is tight and right.

"I think he's gonna flip when he sees this," she says.

She walks into the room where JMac is sitting. He looks up. "Wow!" he says. "Oh my god."

She really is beautiful. She really has a great body. JMac can't keep his hands off of her, and you know what? She can't keep her hands off of him. This is one of those scenes in which it seems as if the participants forgot there was a camera watching them and filming their every move.

"I want your big cock inside me," Victoria says, something she never thought she'd be saying when she came to shoot for us. You see, her plan was to jack JMac's cock and tit-fuck it, not suck and fuck it, as she does here.

Hurray for spontaneity!

JMac eats her shaved, pierced pussy. She's really into it. You can tell by the way her hard nipples are pointing skyward. Then she sucks his cock. She's into that, too; her nipples are still hard. Is JMac into it? What do you think? He tit-fucks her, too. Wouldn't you?

Next, Victoria, a proud member of The Mile High Club (she joined it with her husband on a flight to Europe), becomes a proud member of the MILFs Who've Fucked On-Camera For 40SomethingMag.com Club. With each pound inside her tight, wet pussy, Victoria's moans of pleasure intensify. She gets louder. Yeah, she loves it.

JMac fucks her in the piledriver position. Then he cums all over her big, fake tits.

"That was amazing!" JMac says.

Damn right it was. And we're gonna let you in on a little secret: Last week, Victoria came back for more. Stay tuned.