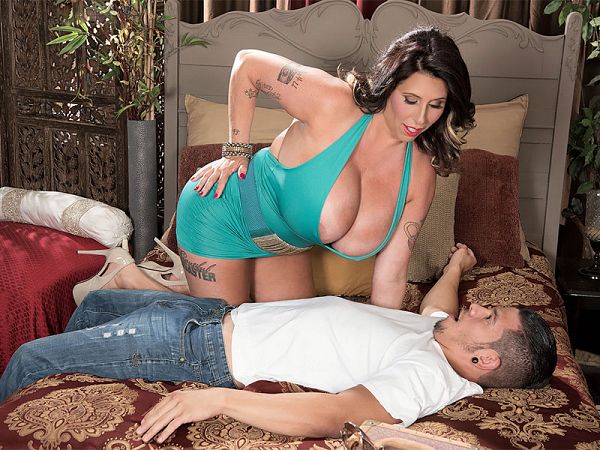 This video starring Amaya May begins in the dressing room. Amaya takes off her bathrobe, and we see her totally naked, giving us an eyeful of her brickhouse body and massive, tan-lined tits. We watch her dress in a skintight outfit and open the door to the studio where the stud is waiting. Sometimes I think a fictional theme is fun, but I enjoy how this scene begins because it's real.

When Amaya takes her giant, solidly-packed, all-natural tits out of her dress and shows them off to Bambino, he looks shocked, and I'll tell ya, so was I over their shape and size. The way her boobs hang, Amaya doesn't need to wear a bra. When this scene originally appeared at SCORELAND, it earned an above-average number of comments, all of them praising her. Of course, there's always the guy who wants to know why the girl didn't get a facial instead of a load on her tits. In fact, Amaya did get her face spunked in another scene. I'd guess that most of her boyfriends douse her tits after fucking them.

"My breasts are very heavy," Amaya said. "I actually had them weighed, and there's over 30 pounds of boob. Any time I can get them out, I'm good with it. I get asked all the time if they're real, especially when I have clothes on. I think you can tell when they're out that they're real. They are very firm. They're soft and firm for as big as they are."

Amaya had been webcamming as Giggles_4U for three years before we asked her if she wanted to visit SCORE. She said she'd never thought of modeling, which was surprising considering the size of her tits. I was also surprised that a studio had never asked her to model.

Amaya is very flexible. She can get into any fucking position with ease.