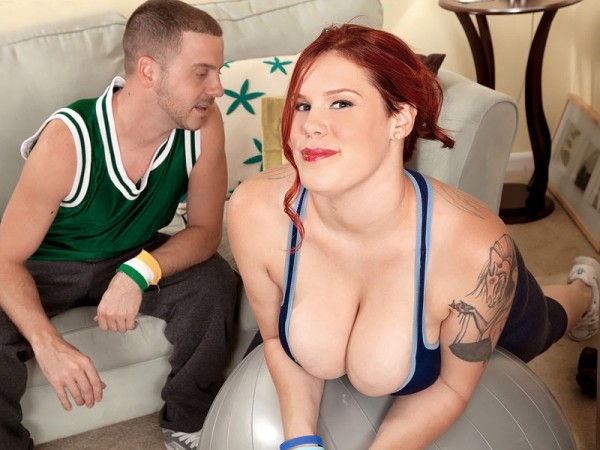 Redheaded supergirl Jolie Rain starts off her scene with a good bounce on an extra-large exercise ball. The human dildo watching her decides to palm Jolie's big boobs then pulls his junk out for her to suck. And away they go.

Personally, I would have been very content to watch Jolie bounce and strip for 20 minutes, but that's me. If a girl's happy to go hard and likes to fuck on-camera, I'll be the first to say go for it.

Jolie was in Iraq in the army serving her country after her first visit to SCORE. "I sought something bigger than me," Jolie said.

Jolie was back in the States after Iraq with bigger tits, always a good thing at SCORELAND. Was she still interested in showing and swinging her fine stuff? We had Jolie's contact info and asked her if she wanted to come back and shake things up again. Or bounce, as is the deal here.

Back home in Louisiana, the girl from Cajun country spends her time training in mixed martial arts, auto maintenance, practicing her shooting (she's a weapons expert), bartending, video gaming (Halo and World of Warcraft) and cooking. What a well-rounded honey she is.

I almost forgot to mention that Jolie goes to BDSM clubs, even though she doesn't look the type at all to let herself get trussed-up like a roast chicken by creepy-looking strangers. Proving again that you never can tell what girls are up to. They're very sneaky.