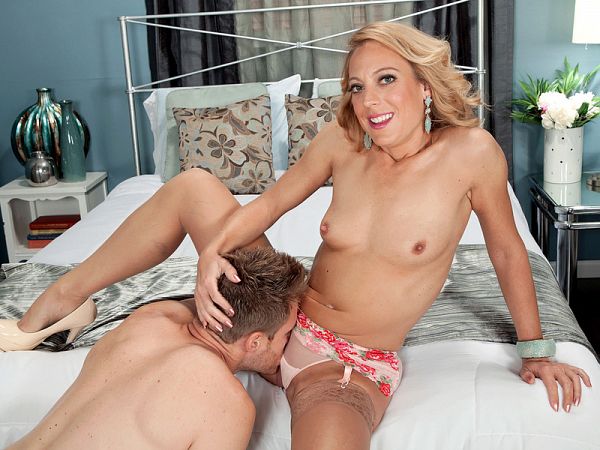 "I work as a personal trainer, and most of my co-workers are men," said 42-year-old mom Charli Shay. "It keeps me wet all day long."

Keeps her in tip-top shape, too. Charli is 5'5", 130 pounds with one of the tightest bodies we've ever seen. She's a real fuck toy, and in this scene, Charli gets turned into a submissive little fuck toy by her guy.

At the start, she's wearing sexy lingerie, stockings and a garter. She gets on all fours so her man can prep her asshole with his fingers. Then she slides a finger of her own into her ass.

"That feels good," Charli says, her butthole already gaping.

She sucks cock. She sucks balls. She gets her pussy and asshole fucked. At the end, she sucks the cum out of his cock. Then she plays with the cum for a bit.

"That tastes good," she says. "I like it."

Swallower. Not a spitter. And as sexy as can be.