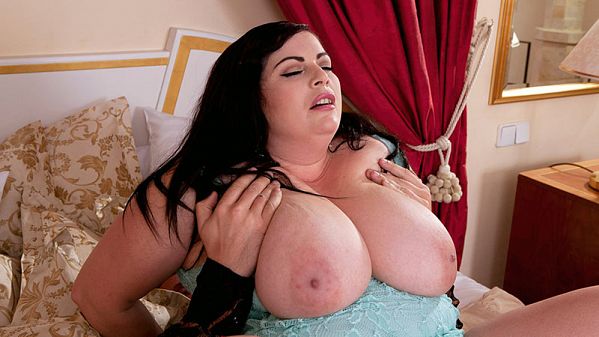 Huge-titted Jola gets XL Girls regular Tom and his large cock to service her overheated libido.

All it takes is Tom squeezing Jola's soft boobs and she's eager to throat his dick, slowly and lovingly with her pink tongue. She lovingly licks his nuts too. His fuck-tool slides between her big, fat tits.

The sight of the cock inside her cleavage inflames Jola's passion even more. She squeezes her jugs together, engulfing the bloated shaft, then takes his boner and taps and rubs her nipple with the tip.

Jola eagerly gets into bed and removes her panties quickly, not waiting for Tom to take them off for her. She wants his cock inside her pussy right now. Getting on her side, Jola raises one leg so Tom can enter her gates of heaven and give her the dick satisfaction she wants. "I love cum on my boobs," Jola said. What Jola wants, Jola gets.