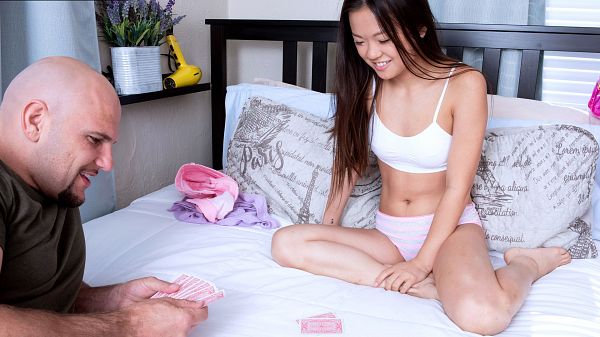 Lulu and JMac are playing strip poker. Little by little, her sexy body emerges. She pulls off her shirt and we see her tight tummy. Next, her perky tits come out. And finally, she drops her cotton panties, revealing her tiny pussy.

One of the best things about this video is how big JMac's cock looks next to Lulu. It's longer than her face. When she gets on top to ride him, Lulu has to inch her pussy down his shaft to adjust to his girth.

It takes a few minutes of working her slit before JMac is able to fuck her deep. From there, it's a smooth trip to pound town. You can tell Lulu's tiny twat is being stretched to its limits and she loves it.

She might've lost the game of poker, but she hit the jackpot with that load of cum on her face.
See More of Lulu Chu at PORNMEGALOAD.COM!