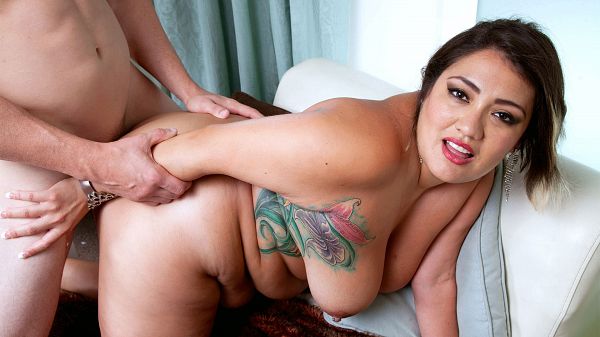 Sinful Celeste shows why she's so sinful.

Her scene starts off with Celeste sucking JMac's finger, a prelude to the cock-sucking to come. She's got a leash around her neck but she doesn't need to be disciplined or trained. Celeste knows all there is to know about man pleasing and male satisfaction.

In a few minutes, Celeste is kneeling and blowing Jmac. He has her by the back of her head and keeps the leash taut as she gargles his cock. Her big tits and deep cleavage are ready to be fucked. She sticks her pink tongue out to lick the head of his cock on the upstroke through her titty tunnel. She cups her big tits and holds them tight as he bones her quivering big boobs.

JMac gets on the couch and signals Celeste to come over to him. She sucks and jacks his dick some more, then climbs on board to be impaled in a cowgirl fuck. With one mighty lift, he picks up Celeste, his cock inside her and fucks her standing up which drives his prick even deeper into her cunt.

JMac puts Celeste down on the settee, gets her ass up and smacks it, then plunges his dick into her pussy from behind. They move to a missionary fuck, another cowgirl and then the power position, the pile-driver.

This pile-driver position gives the guy tremendous leverage and driving energy. After deeply ramming Celeste's ass in the pile driver, he blows his load right into her open, waiting, cum-greedy mouth as she tickles his bag. That's one happy meal Celeste won't forget too quickly!
See More of SinFul Celeste at XLGIRLS.COM!