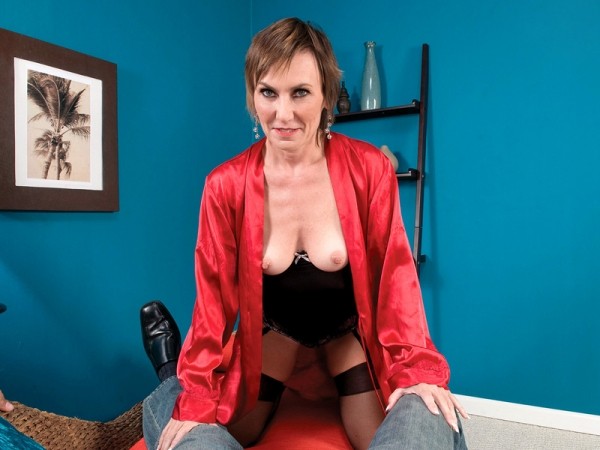 Lillian's guy comes home from a tough day at the office, so Lillian rubs his feet. But what she really wants to rub is his cock. She does that, too, of course. That's just how Lillian is. Not only does she know how to treat a man, she knows how to treat herself...to cock. So, while rubbing her guy's feet, she reaches up for his package. Why?

"It makes me wet," Lillian says.

So, she sucks his cock and tugs his cock and teases his cock with her spread-open divorcee pussy and asshole. Meanwhile, her nipples are rock-hard, and although she wants his cum, she doesn't want this to end, either. Of course, at some point, any man who's with Lillian can't hold back, and this guy unleashes his load into Lillian's open mouth. Very nice.

And it's especially nice considering that, on first glance, Lillian Tesh does not look like the type of woman you'd see in a porn video. She's 51 years old and looks very conservative. She reminds us a little of a younger Julie Andrews (the actress from The Sound of Music and Mary Poppins). And, yet...

"I know what I want and I go and get it," Lillian said. "I'll go to a club and scour the room for someone who I'd like to get fucked by, then I'll make my moves as far as introducing myself. I know what I want when I see it. People think I'm pretty straight. They've never seen my wild side."