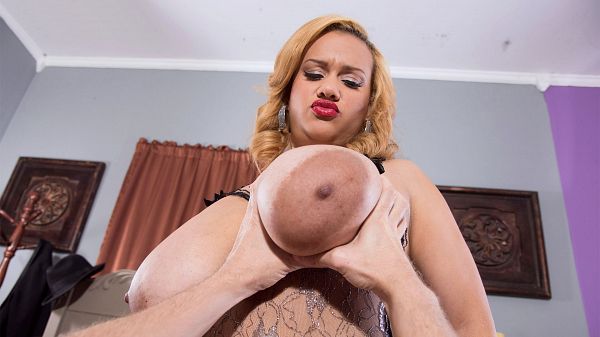 Liza Biggs. A girl who keeps getting better and hotter and sexier every time we see her. Hot modeling perfectly suits her. As "Lingerie Lust" opens, Liza is giving Tony Rubino a back rub...with her big, natural boobs! "How does that feel?" Liza asks him. How does that feel? He's not climbing the walls only by sheer willpower.

Liza rubs oil on his chest and resumes her breast buffing, gliding her now-slick tits along his torso. She dangles her incredible hooters over his face. She wants her nipples licked. No self-respecting tit-man could resist this offer.

Liza reaches south and pulls his junk out of his shorts. Her mouth sucks it, her hand jacks it and her hangers of happiness squeeze it. Liza alternates. Mouth, hand, tits.

They swap positions so she can be straddled and tit-fucked in the traditional way. Liza holds her magnificent mams tightly together, wedging his dick. She shakes them back and forth, making slapping sounds as her tits hit him.

Liza's gorgeous pussy must never be neglected. That would be a sin. She lies on her side and waits for him to slide his cock into her. Her open-bottom lingerie allows easy access to her cookie.

Among the many highlights: Liza's ass twerking as she rides him in girl-on-top and her tits swinging in circles as she sits on his cock at the edge of the bed. If this is not a go-to video, we don't know what is.