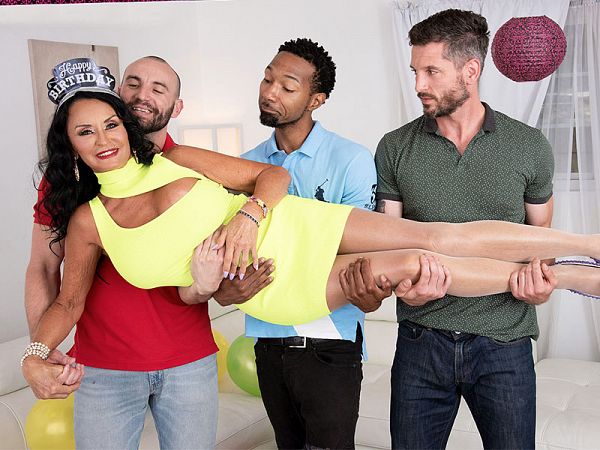 Rita Daniels is celebrating her 69th birthday and her 10th year with 60PlusMILFs.com and 50PlusMILFs.com, and she's invited three guys to her party. They're all young, one of them has a big, black cock, and they sing "Happy Birthday" to her. But she doesn't want cake.

"I think I need to put that on some of your cocks and suck it up," she says.

"I hope you like some meat with your cake," one of the guys says.

Yep. Rita likes meat. Loves it, in fact: one in her mouth, one in her pussy and one in her ass at the same time. Rita's celebrating her 69th/10th with her first air-tight scene and the first air-tight scene we've ever shot.

"I am bringing 69 back," she says.

Can you believe this hot, sexy mother and grandmother will turn 70 next year?

"I say it and I can't wrap my mind around it," Rita said. "I don't feel 70 and I don't feel like I look 70. They say, at a certain age, women just stop caring about themselves and stop getting horny. I wonder what age that might be?"

For Rita, that age is definitely not 69.

"Oh, gosh, I don't have an expiration date. There's nowhere on my body where it says 'Best if used by,' so just keeping using me."