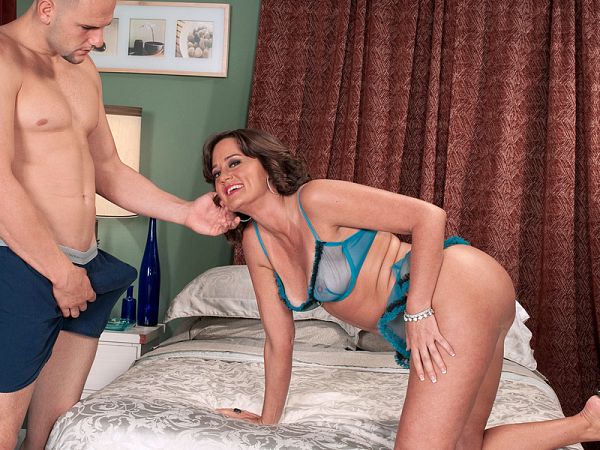 You probably thought Southern belles were classy and demure. Well, we don't know about the classy part, but there's nothing demure about Ruby Thompson, a 40-year-old divorcee from Atlanta, Georgia. Ruby opens this video by talking dirty to us with her sweet, Southern accent.

"There's going to be some pussy fucking in this video," Ruby says. "Some ass-fucking. And I just love to have my pussy fucked almost as much as sucking a dick. I just love to slobber on it so it's dripping down on your balls. I betcha y'all would enjoy that."

Well, yeah, we would. Ruby sucks and fucks like a wild woman. She gags on the dude's big cock while he eats her pussy. We get a between-the-legs view of him slamming her in the missionary position, and we can see his cock splitting her pussy in half while her asshole puckers. She has a meaty pussy. The guy fucks her like he's trying to break the bed and her pussy. He does the same to her ass, and she likes it.

"Yes, I like a dick in my ass," she says as she stuffs a few fingers into her pussy, making certain she's totally stuffed down there. He piledrive-fucks her ass and makes her asshole gape then spreads her asshole wider with two fingers.

Enjoy, y'all.
See More of Ruby Thompson at YOURMOMLOVESANAL.COM!