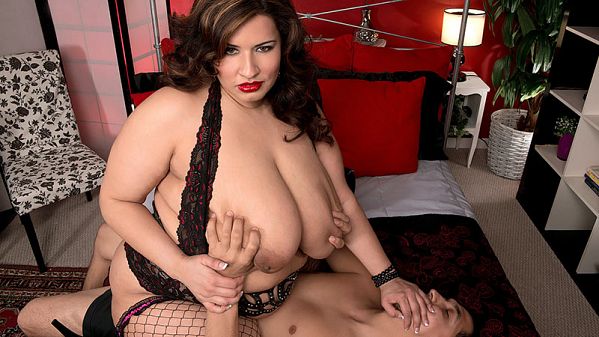 "Obviously, if a guy likes big breasts, he'll be attracted to me initially," says Sofia Rose. "I've also converted some guys to ass men because I'm blessed in that area, too. I've even had guys who had never dated ethnic women decide that they like Latin women."

Beautiful Sofia wants to play a little rough. She mounts Largo and rides him, grinding on top. Sofia is feeling dominant and in control. Her lap riding is leading to hard feelings. Her big breasts are hand magnets. She knows how to rub a man the right way. Juan squeezes and spanks her round ass-cheeks. Sofia loves that and wants another slap.

Sofia's tits fall out of her monokini top, two immense knockers that even the Jolly Green Giant could not palm. Largo sucks Sofia's brown pointers and buries his face in the deep divide of her super-natural super-breasts. She turns around and sits on his face, one of her specialties. Guys love that.

Sofia kneels on the floor between his legs. Juan stays in bed. Pulling his prick out of his shorts, Sofia engulfs it between her lips and sucks hard, making contented sounds. She takes her twin pillows, so big they deserve their own area code, and squishes his tool between them. It disappears. Sofia gets back on the bed so Juan can straddle her chest and slide his cock into her cleavage from this position. Again it disappears.

Standing up on the bed, Sofia is fed cock again. She keeps her hands by her sides as he pumps in and out of her mouth. He gets back on the bed and beckons Sofia to get on top. Her bottom is pulled aside for clear access to her tight pussy-hole and the cock slides in. Sofia immediately grinds fast and hard. She's lovin' it. What man would not be intoxicated by Sofia's sex games?