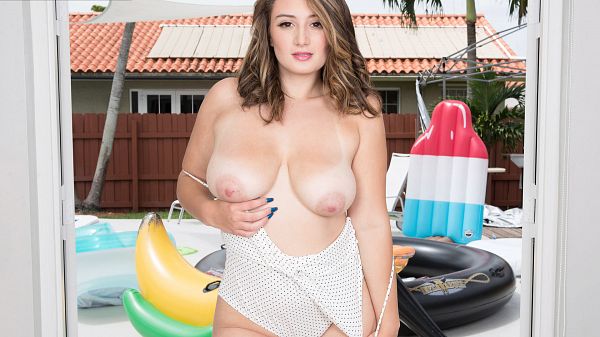 Age: 18; Born: March 23; Ht: 5'4"; Wt: 162 pounds; Bras: 34DD; Panties: Thongs or lace; Anal: Yep; BJs: I swallow if I love you; Masturbate: All the time.

Fantasize about fucking Britt all you want, but don't piss her off. "I grew up doing martial arts. I still practice a few times a week. I just joined a UFC gym and I'm doing really well. My trainer told me that he wants me to compete, but I like my nose too much to get it broken in a fight! I'll stick to watching the fights on TV."

Britt is currently studying to be a nurse. Imagining her curves in a nurses outfit is enough to make our pants tight. "I was hanging out with some girls in my program and one of them told me that she heard that every hospital has a room where all of the doctors and nurses hook up. Apparently, everybody in hospitals is fucking each other, and I honestly can't wait to experience that.

"My biggest fantasy is having a gangbang. I like watching porn a lot, and gangbang porn is my favorite. When I'm super horny, I'll pull out all of my toys and use them at the same time. I put a soft latex dildo between my tits, suck on another one, put a buttplug in and fuck my pussy with my vibrator."